Your presentation folders are an important marketing facet for your business, conference, or information. How so, you ask? People respond well to well laid out graphic design, and will, as a general rule, be more favorable in disposition towards the ideas presented within the folder. In addition to this, your presentation folder will give people a bit of a primer for what is to come on the pages within them. With high quality printed presentation folders, you will add an entirely new level of professionalism to your presentation, and will be bound to wow the participants, clients, or peers that you are presenting to.
Not all Printing Is the Same
While you can have the best graphic design in the world for your presentation folder, the presentation folder printing is what matters. While you could elect to go to OfficeMax or Kinko's to get the job done (or any local office related store), these places will not offer you the kind of quality that is available to you from niche printers either in your town or online. Presentation folder printing varies, but as a general rule of thumb, 350gsm silk art and 325gsm recycled board are the highest caliber of materials that you can find.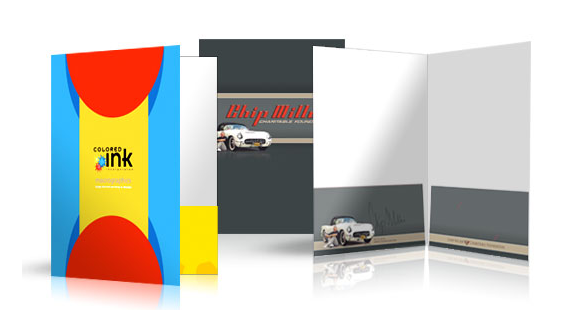 Different Styles of Presentation Folder Printing
While A4 and A5 style folders are the most popular for presentation folder printing, glued pocket presentation folders are also prominent choices, as the pockets allow for a higher level of security for the papers within. In addition to this, many presentation folder printing shops will offer bonus add-ons for businesses looking to utilize their services, like four page printed brochures. The printer will be as essential as your graphic artist for your presentation folder if you are serious about using one to nail your big client or proposal at the meeting.
There are even different capacity spines available for presentation folders if you go through a niche printer – they generally range up to 5mm in width, and allow for perfect storage of a larger group of papers, avoiding the bloated look of a thin folder that has been overstuffed. Many niche printers will even offer business card slots within the presentation folders that they print, making their offerings diverse and valuable to any business owner.
The Choice Should Be Clear
There is overwhelming evidence that shelling out a little bit of extra cash upfront is well worth it in the long run. After all, if you were not giving an important presentation, why would you bother getting presentation folders printed anyways? Presentation folder printing is a specialty, not your average, runs of the mill print job. When you put so much attention into your business plans, your products, your pitches, or your events, why not put that much attention into the details like your presentation folder printing? Sometimes, you can judge a book by its cover, and when that book is a packet of papers at a presentation, if someone has taken the time to organize them well, you can generally assume they are going to be good!